A Message from the President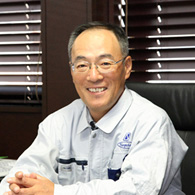 We, NAGAHAMA SEISAKUSHO LTD., have continued activities focusing on our company vision CUSTOMER ORIENTED since the company establishment in year 1948, we hope to keep striving to share happiness with our customers and suppliers by offering valuable technologies , reliable products and customer service.
We also set our sights on exploring our business opportunities not only in domestic market but also in the international field maintaining focus on our specialties so that we can support our customers in expanding to overseas areas under recent global corporate activities.
Furthermore we will make substantial efforts in terms of research, designing,manufacturing and procurement in order to meet with the customer demand in cost reduction programs.
We will endeavor to move forward by taking one step at a time in building mutual credibility with customers in the long term perspectives, we would thus like to ask for your continued support.
Representative Director and President